In January 2019, PKU Pioneer signed a number of cooperation agreements with two subsidiaries of Shenlian Group, including one set of 6000Nm3/h VPSA Oxygen Plant, two sets of 2500Nm3/h VPSA Oxygen Plants to Lanxi Zili, and one set of 6000Nm3/h VPSA Oxygen Plant to Taixing Shenlian. This is since 2013, PKU Pioneer provides VPSA oxygen service to Shenlian Group's subsidiaries once again.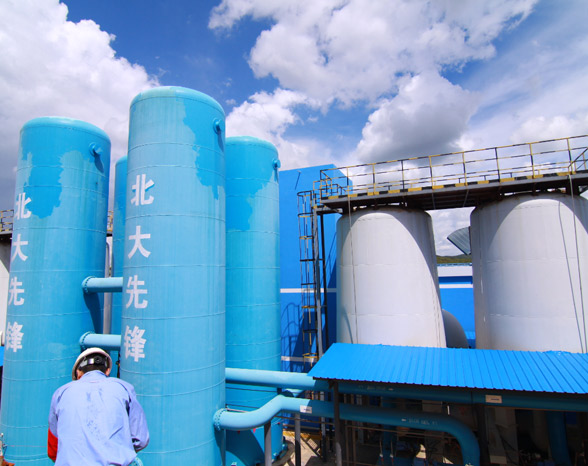 PIONEER PKU's VPSA oxygen plant in Yunnan province of China in 2017
Taixing Shenlian Company is mainly engaged in the comprehensive utilization of industrial wastes and resource recycling. The raw material to be processed includes non-ferrous metals, industrial hazardous waste, industrial liquid waste, waste circuit boards, copper-containing waste, waste activated carbon, and non-ferrous metal smelting waste. In this project, PKU Pioneer supplies VPSA Oxygen Plant for Taixing Shenlian's suspended furnace with oxygen purity of Min.90%. This new production line adopts the international leading production technology and is expected to produce in the second half of 2019.
For PKU Pioneer, this project is company's first foray into such a variety of hazardous industrial waste recycling field. The use-pattern of oxygen of the molten disposal system is similar to non-ferrous metal smelting process, therefore PKU Pioneer has rich engineering experience to follow in the supply of VPSA Oxygen Plants. After repeated proof of PKU Pioneer, the project goes smoothly and now is under the early stage of the equipment procurement.
At the same time, PKU Pioneer wins the bid of Lanxi's project "350,000 tons/year solid waste disposal and utilization to produce 200,000 tons/year electrolytic copper". The total output of the three sets of oxygen plants is 11000Nm3/h, and the purity is Min.90%,supporting two oxygen-rich side blowing furnaces.
Lanxi specializes in resources recycling and utilization of surface treatment waste, copper waste and non-ferrous metal smelting waste,as well as rare and precious metals' comprehensive refining business. The project is planned to be completed and put into operation by the end of 2019. It can produce 200,000 tons of electrolytic copper and 10,000 tons of crude nickel sulfate from solid waste every year, with an estimated annual sales value of 12 billions Yuan.
According to statistics, PKU Pioneer has supplied nearly 40 sets of VPSA Oxygen Plants in the copper (including renewable copper) smelting industry with the total oxygen capacity exceeding 280000 Nm3/h, providing continuous stable, cost-effective industrial oxygen for different types of melting furnaces. PKU Pioneer has the most abundant performance in the field of copper smelting in China.
As early as in 2013, PKU Pioneer has supplied a set of 1200/80% VPSA Oxygen Plant for Shenlian Group's subsidiary--Jiangxi Zili. Pioneer's advanced technology level and professional technical service has established a trust base for mutual cooperation. This also becomes an important factor that Shenlian Group repeatedly choose PKU Pioneer as its reliable supplier.