On June 20-22, 2019, the "2019 Pressure Swing Adsorption Technology Industry Development Conference" was successfully held in Taiyuan, Shanxi. The conference was hosted by the Gas Separation Equipment Branch of China General Machinery Industry Association and more than 100 technologists, experts, scholars, and practitioners from the gas industry attended the occasion. Peking University Pioneer Technology Co., Ltd.(hereinafter referred to as Pioneer), as one of the professional pressure swing adsorption technology service providers in China, was invited to participate in the conference.
At the conference, Li Yongfeng, a senior sales engineer of Pioneer, made a report entitled "Development and Application Prospect of Pressure Swing Adsorption Technology". Based on China's development of pressure swing adsorption technology, he introduced Pioneer's role in promoting the progress of pressure swing adsorption technology in the past 20 years. From revival to rising, China's manufacturing industry has been through a crucial period with the scale expanding and industrial structure transformation accelerating. In the wave of rapid growth, China's pressure swing adsorption technology has completed the transformation from foreign technology as the domination to the independent research and development of domestic enterprises, shaping a market structure of national industries leading the market. Pioneer has also become a leader in the national pressure swing adsorption industry through unremitting independent innovation and development.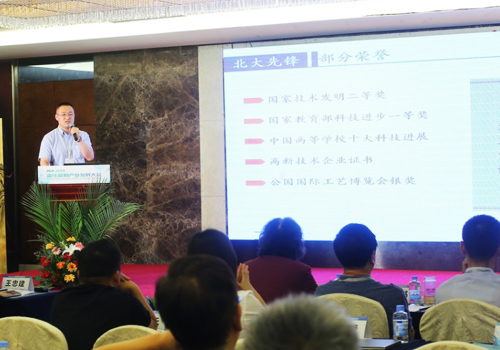 Li Yongfeng Sharing His Points at the Conference

The application prospect of oxygen enrichment is consistently optimistic from the perspective of adhibition market development, for example, in strengthening oxygen production for economical combustion, waste solid metal avoiding tariff peaks and tending to valleys, and sharp fluctuations in load, which will lead to a larger market for pressure swing adsorption technology.
Finally, Li Yongfeng called on learning from each other to form an atmosphere of friendly competition in the market. All the companies should seize the opportunities to become bigger and stronger to promote the healthy and sustainable development of the industry.