Up to now, China has been fighting against the COVID-19 epidemic for over two months during which people from various industries united, responded quickly and acted effectively, and the worst situation is believed to be over.
In this severe battle, responding to the call of the CPC Central Committee, the Party branch of PKU Pioneer along with the employees bravely took the responsibility of virus prevention and control adhering to the problem-oriented principle. The branch members actively deployed their work and gave full play to the exemplary role with enhanced sense of responsibility and urgency in various tasks.
Party organization in enterprises is an important part of the governance system. On February 28, the Party branch of PKU Pioneer launched a donation campaign against the novel coronavirus pneumonia following our donation of prevention supplies such as masks and disinfectants to Hubei, Shandong Province and other hard-hit places. All the 58 party members actively participated in the drive and donated ¥4,948 which will be handed over to higher-level party organizations to contain the spread of the coronavirus.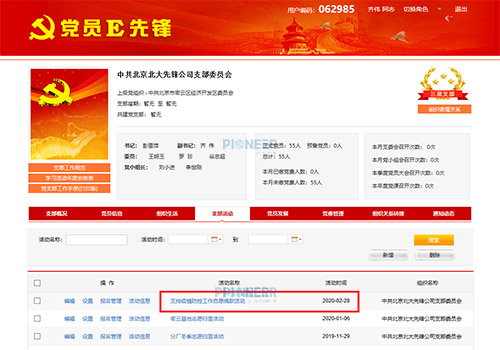 Action Announcement of PKU Pioneer Party Branch
Under the leadership of the Party branch, plenty of employees took the initiative to contribute housewares like sanitizers and liquid soaps to help leaders and colleagues strengthen self-protection. During extremely tense period of the coronavirus outbreak, a great many workers actively advanced nearly ¥200,000 to supplement Pioneer's prevention materials through various channels in support of the epidemic control. Although only a part of employees are currently attending the office, the kind actions of coworkers reveal the cohesion of the company.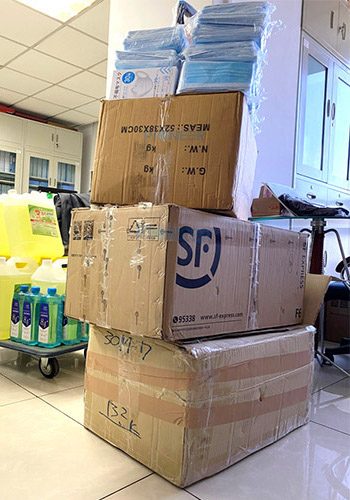 Prevention Materials Purchased by PKU Pioneer Staff Spontaneously
The impact of the novel coronavirus on domestic social production and people's lives is being reduced as no confirmed cases were newly reported in many provinces and cities for many consecutive days. Enterprises in these regions will continue to resume work. Opportunities and challenges coexist under the economic situation affected by the epidemic. Pioneer is ready to rise to the difficulties, and positively respond to changes in the market. We'll strive to continue opening up potential markets while working on current engineering projects to minimize the negative influence and achieve the overall continuous and steady development.