On May 21, 2020, the annual summary meeting of PKU Pioneer was held. The plenary meeting originally held in March every year was postponed to May this year due to the coronavirus outbreak. To respond to Peking University's epidemic prevention and control measures and avoid mass gatherings, the 2019 summary meeting was hosted online for the first time, which was different from the past. Zhang Jiaping, the chairman of Pioneer and Tang Wei, the general manager, made the annual work summary report. All employees in Yanyuan plaza office, PKU Resource Building, Gu'an production base and Miyun R&D base attended the online video meeting to listen to the comments and reviews of the company's management team on Pioneer's overall work in 2019.
Tang Wei announced the overall sales of last year. In 2019, PKU Pioneer continued the steady growth with a total newly-signed contract amount of nearly $92 million, which pushed the project performance to another record high since the establishment of the company. So far, Pioneer has achieved a total revenue of more than $85 million for two consecutive years, and continues to maintain its leading market share in the two core businesses- PSA oxygen generation and CO purification.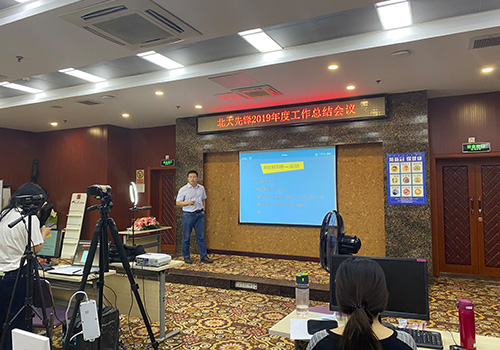 Tang Wei Giving the 2019 Summary Report Online
2019 is the 20th year of PKU Pioneer since its establishment. Through the past 20-year development of PSA technology in China, emerging talents and teams who committed to the R&D, promotion and application of gas separation technology are increasingly involved in the industry. Over the past 20 years, some enterprises have been restructured and transformed, some have been disbanded quietly while Pioneer has been digging deep into pressure swing adsorption technology, and differently has grown from a R&D team into a leader in the field with more than 200 employees and 7 wholly-owned subsidiaries.
At the same time, Tang Wei also showed his credit for outstanding achievements made in engineering project implementation. Last year, Pioneer has undertaken 97 projects altogether, thereinto more than 40 have been constructed on-site. Each of these projects holds the hard work of our technical team and demonstrates our professional, efficient and attentive service to build high-quality projects for our customers. In order to meet the growing market demand, Pioneer has been making great efforts to expand its technical team in recent years. As a result, in 2019, the number of technical personnel was increased by 15%, thus providing a strong guarantee for project schedule and construction quality.
Subsequently, Zhang Jiaping made a report on the 2019 work of the board of directors at the meeting, further clarifying Pioneer's short-term goals of striving to develop new businesses such as desulfurization, denitration, hydrogen energy and military industry. In 2019, all the new businesses have made breakthroughs with a number of typical projects having been established. Related subsidiaries and departments will also endeavor to further expand the market and create new business growth sources in recent years.
Team stability is the cornerstone of enterprise development. Finally, Pioneer issued commemorative medals to senior employees who have been working here for 5 years, 10 years, 15 years, and 20 years and showed recognition to outstanding teams that have made remarkable contributions to the company. Through years of culture building, Pioneer has formed a rigorous and pragmatic, sincere and firm, and courageous and innovative working style to build a superior career development platform for the employees, thus boosting the common growth of employees and the organization.
Although currently, the COVID-19 has caused an adverse impact on the upstream and downstream industries to some extent, Pioneer still has a firm and optimistic belief that all employees can overcome resistance in the market and span the special period steadily to continue achieving greater success in the future.